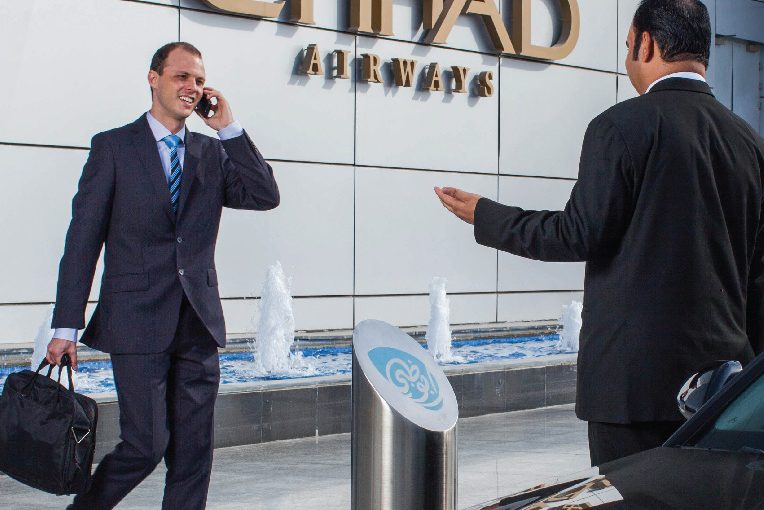 Enjoy the luxury of a chauffeur service
Etihad Airways First and Business Class guests can enjoy personal chauffeur services at more than 40 cities across our network. This service is not available for Business Breaking Deals.
If you already have a flight booking, you can view it now to make a Chauffeur-drive request.
Global locations
Ways to book
Etihad Chauffeur service can be requested online up to 24 hours prior to your flight. Alternatively, you may also book this service through our Global Contact Centres and local offices or through your local travel agent. For changes to or cancellation of your booking, please contact us.
Important note
No transfers between respective airport terminals.
          
Terms and conditions
Etihad Chauffeur service is available to the following guests
Guests holding tickets with confirmed reservations in Business Saver, Business Freedom and First Freedom.
Etihad Chauffeur is available to Etihad Guest members redeeming their miles on First and Business class.
Guests travelling on Etihad Airways operated flights (although holding other airline tickets), are eligible for the  Etihad Chauffeur service.
Etihad Chauffeur service is not available to the following guests
The Etihad Chauffeur service is not available on Business Breaking Deals Fare Choice and any other discounted tickets. Please check with your travel agent or with the Etihad Airways office at the time of your booking.
The service is not available to guests who are waitlisted, in transit or those collecting tickets on departure.
The Etihad Chauffeur service can only be used by  travellers  who have a corresponding arriving or departing flight on the same day. The service cannot be availed on any other day for any reason.
Etihad Chauffeur is not available to Unaccompanied Minors (UM).
Chauffeur service is not applicable for children between 2 and 12 years.
Etihad Chauffeur service must be booked at least 24 hours in advance of travel. Service will not be confirmed for bookings made within 24 hours. Service cannot be arranged for guests on arrival at  airport without prior bookings.
Etihad Chauffeur operates within specific distances of all destinations where offered. Â If the service requested exceeds the specified mileage limits in any given city, guests are required to pay for the excess mileage at the locally applicable rates. All charges for excess mileage should be settled by guests directly with the chauffeur.
If a guest fails to cancel an Etihad Chauffeur booking and the chauffeur arrives at the appointed time and place only to be sent away, this will be termed as "No Show". The service cannot be rebooked for a future date in conjunction with the same ticket.
Etihad Chauffeur services are provided by third party service providers. Etihad has no liability for loss, personal injury or death incurred during the use of such facilities and services unless such loss, personal injury or death is / are caused solely by Etihad negligence.
Etihad Chauffeur is not available for use with complimentary tickets or complimentary upgrades from Economy to Business and/or First Class.
Guests must adhere to the pick-up times given to them. The pick-up time is neither flexible nor negotiable. Drivers will wait for a maximum of 20 minutes, after which the driver will advise the guest and promptly be released for the next assignment.
Etihad Chauffeur service is not available to guests travelling on codeshare flights not operated by Etihad Airways.